FOR IMMEDIATE RELEASE
Abstract Art Bringing Jazz Music 
Scholarships to Kids
Sound Images Art Show and Benefit,
November 11, 2018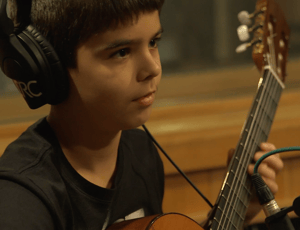 Chicago, IL — One of Chicago's most innovative educators, David Bloom, founder and director of Bloom School of Jazz since 1975, and honored as "Jazz Educator of the Year" by The Jazz Institute of Chicago in 2017, has stimulated imagination and pride in thousands of students. Building on his work with youth, he started the Bloom Foundation, 501(c)(3), dedicated to nurturing creativity and providing music scholarships to under-served youth.
In recent years, Bloom began painting and is debuting over 40 abstract oil paintings, in the Sound Images Art Show and Benefit on Sunday November 11, 2018, 3:00 PM to 6:00 PM, at 226 S. Wabash, 6th Floor. All proceeds will go to The Bloom Foundation.
The event includes live jazz performed by Bloom School of Jazz students, alumni and scholarship recipient, 13-year-old guitarist Teo Georgieve (pictured).
In Bloom's paintings, color and texture are turned into sculpture on canvas in a rigorous application of paint. Many of the paintings have a three-dimensional feel with high impact color. A blue piece featured on the cover of Contender, Bloom's most recent album with Producer and Arranger Cliff Colnot, will be featured in the show. All artwork sales benefit music education projects and scholarships for under-served kids in Chicago.
DETAILS:
Sound Images Art Show and Bloom Foundation Benefit
Sunday November 11, 2018
3:00 to 6:00 PM at 226 S. Wabash, 6th Floor, Chicago, IL 60604
Visual art and live jazz music performances
Free, open to public, RSVP is required: email hannah@bloomschoolofjazz.com
A parking discount is available with validation.
Proceeds benefit the Bloom Foundation, a 501(c)(3) dedicated to developing kids' imagination and self-expression.
ABOUT:
David Bloom's life work centers around stimulating imagination, creativity and pride. Bloom School of Jazz's 38th Anniversary Cool Heat Concert aired on Chicago's WTTW television and featured some of Bloom's award-winning students. Bloom, a guitarist, flutist, composer, arranger and author, has been featured in Chicago Tribune, Chicago Jazz Magazine and Guitar Player Magazine, as well as on WGN Channel 9 and CBS Channel 2. He judges his validity by his ability to successfully impact others and is fascinated by how people act, think and what motivates them.
LINKS:
See David Bloom Fine Art: www.davidbloomfineart.com
Listen to the album Contender: www.colnotbloommusic.com
Visit Bloom School of Jazz website: www.bloomschoolofjazz.com
CONTACT: 
Hannah Frank, David Bloom Fine Art Studios
Phone: (773) 860-8300  Email: hannah@bloomschoolofjazz.com
###